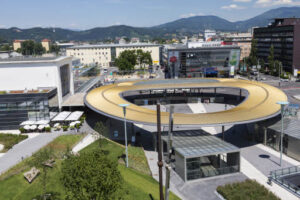 By plane
Located in the south of the province of Styria, some 30 miles north of the Slovenian border, Graz has an international airport just outside the city which connects the city to several transportation hubs including Frankfurt, Munich, and Vienna. Regular busses and a local train service provide easy transport to and from the airport. Vienna Airport has a train (and bus) connection to Graz as well.
By train
The central train station of Graz is well-connected to the city centre by public transports (tram and bus lines respectively).
We are delighted to be able to offer discounted tickets from the Austrian Rail Services (ÖBB) for all participants of the conference!
To purchase discounted rail tickets, click <here> and enter the conference-specific TAN code: U4MWHE
Now you can register as a new customer with your e-mail address and book your journey to the Digital Humanities 2023 congress in a relaxed manner. Please note that each person must create a new ÖBB account specifically for this congress. Your customer account for the congress will be automatically deleted after the end of the event.
By registering, you will receive a 22% congress discount on the ÖBB standard fare, 10% on the international standard fare and a special price for the ÖBB Nightjet when booking.
Public transport
The city of Graz itself is fairly compact, with most sights and accommodation options situated in the city centre or connected via a dense network of tram and bus lines. Note that many public transport options do not operate after 11pm. If your flight or train arrives late, it may be necessary to use a taxi service.
The weekly ticket for public transport in Graz costs 16,70 Euro, with several cheaper options for shorter periods.
The conference registration comes with a complimentary 3-day ticket for the city's public transport system!