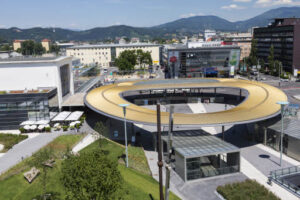 Located in the south of the province of Styria, some 30 miles north of the Slovenian border, Graz has an international airport just outside the city which connects the city to several transportation hubs including Frankfurt, Munich, and Vienna. Regular busses and a local train service provide easy transport to and from the airport. Vienna Airport has a train (and bus) connection to Graz as well.
The central train station of Graz is well-connected to the city centre by public transports (tram and bus lines respectively). The city of Graz itself is fairly compact, with most sights and accommodation options situated in the city centre or connected via a dense network of tram and bus lines.
Note that most transportation options do not operate after 11pm. If your flight or train arrives late, it may be necessary to use a taxi service.
The weekly ticket for public transport in Graz costs 16,70 Euro, with several cheaper options for shorter periods.