Registration:
All workshops are free of charge as part of the conference program. Please note that only registered participants of the DH2023 conference are eligibly to participate in the workshops.
Logistics:
Workshops will be held on-site at the University of Graz main campus, at the RESOWI building.
There will be coffee breaks with beverages, coffee and tea at 8:30 (prior to the start of the workshops), at 10:30 am , at 1:00 pm and 3:00 pm. Lunch is not provided by the organizers, but there are many places nearby (check out the programme booklet which you will receive upon check-in).
Floormap: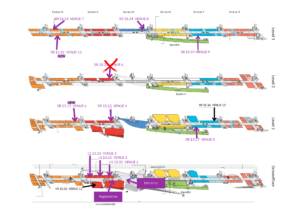 Schedule:
Monday July 10
Full Day
(9:00-17:00)
[V9: SR 15.37]
TwinTalks 4: Understanding and Facilitating Remote Collaboration in DH
[V4: SR 15.15]
DH4MA – (Digital Humanities for Marginal Areas). Tangible and Intangible heritage digitalization to promote marginal areas and rural development
[V2: LS 15.02]
An introduction to Transkribus: how to use Handwritten Text Recognition in research and teaching
[V3: LS 15.03]
DHTech SIG Workshop: How can you trust your code?
–
Morning
(9:00-12:30)
[V7: SR 15.33]
­Digital Pathways Through Newspaper Advertisements: Workflows from Printed Page to Digital Analysis with the Avisblatt-R-Package
[V8: SR 15.34]
Frameworks for User-Focused Digital Humanities Projects: Half-day workshop proposal
[V1: LS 15.01]
LEAF: Developing Streamlined Digital Scholarly Workflows with the Linked Editing Academic Framework
[V5: SR 15.17]
Amplifying unheard voices in Digital Humanities: an OpenMethods edit-a-thon
[V6: SR 15.13]
Multilingual taxonomy initiative – TaDiRAH as community of practice
Afternoon
(13:30-17:00)
[V5: SR 15.17]
SIG-DLS Workshop: 7 years on
[V1: LS 15.01]
Labs for Labs: a participatory workshop on digital lab practices in the humanities and social sciences
[V6: SR 15.13]
Who are the Users in Multilingual DH Research?: A Community Exploration
[V7: SR 15.33]
The Programming Historian: Developing a Digital Humanities Tutorial
[V8: SR 15.34]
SPARQL for (Digital) Humanists – Querying Wikidata and the MiMoTextBase
Tuesday July 11
Full Day
(9:00-17:00)
[V2: LS 15.02]
Semantic Web and Linked Open Data in Historical Sciences
[V11: SR 15.32]
A Model for Modeling Problems – Game Design as an Exercise in Formal Abstraction
[V7: SR 15.33]
OCR4all – Open-Source OCR and HTR Across the Centuries
[V8: SR 15.34]
AV in DH SIG Workshop
–
Morning
(9:00-12:30)
[V5: SR 15.17]
­Put Them In to Get Them Out: the ParlaMint Corpora for Digital Humanities and Social Sciences Research
[V3: LS 15.03]
Workshop CATMA featuring GitMA and Vis-A-Vis
[V6: SR 15.13]
Tutorial – Collaborative approaches to discourse: Music scholarship using performance recordings and Linked Data annotations
[V1: LS 15.01]
Creating a DH workflow in the SSH Open Marketplace
[V9: SR 15.37]
AudiAnnotate Workshop and the "Radio Venceremos, the Rebel's Radio Station" Project: Using IIIF with AudioVisual Collections to Build Editions, Exhibits, and Playlists
Afternoon
(13:30-17:00)
[V9: SR 15.37]
­Digital Humanities Applications of spaCy's Span Categorizer
[V5: SR 15.17]
Drafting Standards for Stylometry
[V1: LS 15.01]
Creating, storing, and sharing your own web archives with open source Webrecorder tools
[V3: LS 15.03]
From Sketching to Coding: Visualization as a Thinking Process
[V6: SR 15.13]
­Workshop HTR-United: metadata, quality control and sharing process for HTR training data