We have prepared a video to introduce some of the places and attractions you could visit when attending the conference.
Guided Walking Tours through Graz (daily on 12th, 13th, 14th July, 6.30 pm)
Discover Graz (duration: ~1,5 hours)
Graz has many faces: UNESCO World Heritage and a Cultural Capital of Europe, it was the seat of Hapsburg princes and a university town. In the winding streets of the old town, you will find romantic arcaded courtyards, bustling squares, and medieval alleys; proud town houses stand side-by-side with Italian palazzi exuding southern charm. From the clocktower with its unusual hands to the island made of glass and steel, from the emperor's mausoleum to the Kunsthaus – known as the "friendly alien", Graz is a panorama of the old and the new.
Roaming through the Old Town you will get a lesson in appreciating the Romanesque, Gothic, Renaissance, Baroque, Historism, and Art Nouveau. From atop the Schlossberg, a wooded mountain right in the Old Town, you will enjoy a magnificent view of the red roofs and the whole city spread below.  A castle that stood on the hill more than 1.000 years ago gave the city its name. The fortress that succeeded it stood unconquered until it was torn down in the 19th century. A bell tower and clock tower remain as friendly landmarks of the city.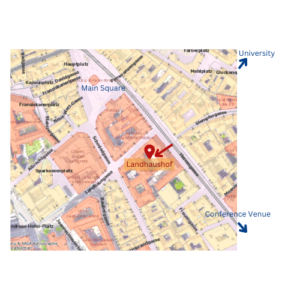 Post-Conference Excursions (day trips on 15th July, 9 am to 5 pm):
Legendary Riegersburg and fabulous chocolate + Buschenschank
Riegersburg Castle sits magnificently on a steep volcanic rock overlooking the East Styrian hills. For centuries it was considered impregnable – today it can be "conquered" in just 90 seconds via the inclined lift. After lunch (optional) your taste buds can continue to rejoice, because at the foot of the Riegersburg lies the Zotter Chocolate Manufactory, where the sweet temptation of numerous types of chocolate is surely irresistible. The end of this excursion to the Styrian Volcanic Land is a typical snack in a "Buschenschank" of the region..
Reading | Living | Eating in the monastery – Admont Monastery and its treasures
Embedded between the sharp mountains of Gesäuse, the towers of Stift Admont Monastery rise high above the valley. The monastery is the oldest existing monastery in Styria, and for centuries, the Benedictines have made important contributions to the cultural life of Europe. The cultural main attraction is, of course, the Stift Admont Library. It blends various art forms (architecture, frescoes, sculptures, writings, and printed works) into a harmonious whole. Experience a guided tour and let yourself be enchanted by the diversity and splendor. The monastery courtyard is adorned with a rose garden, next to which the impressive Admont Abbey Church rises. Even long after its completion, the abbey church remained one of the largest Neo-Gothic religious buildings in Austria. The conclusion is a "monastery soup" to fortify you for the journey back home.